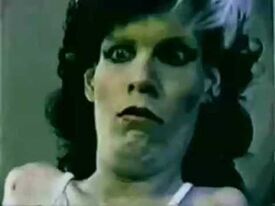 Goddess Bunny - a creepy video, in which a transvestite dressed in a little girl with incredibly thin limbs and a hypnotic look tries to dance something like a tap. The video is accompanied by a reversed (turned upside-down) music, which enhances the scary effect. It is known that this video was shown on one of the Belgian TV channels in the middle of the night, between "white noise". Many viewers who accidentally stumbled on the video, received a serious mental trauma. In RuNet gained popularity at the end of 2009.
In the history of Hollywood, you are unlikely to find a more mysterious and frightening personality. Johnny Baima (Johnnie Baima) was born with a severe diagnosis - poliomyelitis.
His childhood was far from being the best way - constant travel between various orphanages, rape in one of them, disdainful attitude of others, bullying, ridicule, and helplessness of doctors who, in an attempt to strengthen his spine with a metal rod, only exacerbated the situation, even more deforming the body. All this had a negative effect on his growing up.
However, since his childhood, Johnny had a dream - at all costs he wanted to become famous. Later, he selects a suitable niche - he begins to perform in the California underground bars and clubs as a "drag queen" (usually a gay or transvestite dressed in women's clothing, performing on stage in front of the hunt before such shows by the public). Having become fascinated with his transvestite image, Johnny begins to associate himself with a woman and, for his freak show, picks up a pseudonym - Sandy Crisp. Nevertheless, later on it is fixed the nickname Goddess Bunny, with which he (or already it) and becomes widely known.
Community content is available under
CC-BY-SA
unless otherwise noted.